European Architecture in Jiaxing
I once argued that Zhongshan was changing fast in a documentary I made on the topic three years ago, and it seems Jiaxing too is changing fast with tales of shacks to superstructures galore in a mere couple of years.
This is the story all over China though. In the city of Jiaxing there are more new businesses and building projects on my block in a month than there is in my hometown in an entire year. Easily the best building projects in Jiaxing however, are the apartment complexes of Paris, Rome, and Venice.
Paris City
The apartments behind the Jiaxing Arch de Triomphe are know as Bali Du Shi (巴黎都市) or Paris City. Lots of families appear to be living in them judging by the businesses on street level and the clothes hanging out to dry in the windows.
On my visit during a fine Saturday in November there were a bride and groom taking wedding pictures. Taking wedding photos is becoming more and more popular in China and I usually see at least a couple photo shoots every weekend of the year.
In China, Paris is definitely seen as the most romantic city in the world. Throughout my years as a teacher, out of approximately several hundred Chinese female students I have polled on the subject of "which country would you want to go to if you could go abroad?", France is the most popular. Second runner up is "French" (French and France are basically the same word in Chinese).
The Roman Branch of Bank of China
Rome (luómǎ 罗马) sadly still remains mostly deserted, since I only saw a handful of apartments with signs of people living in them. However, there are several businesses including coffee shops and wine sellers on street level that have opened in the last few months, as well as a Bank of China. Hopefully these businesses will attract more people to the city's cloisters.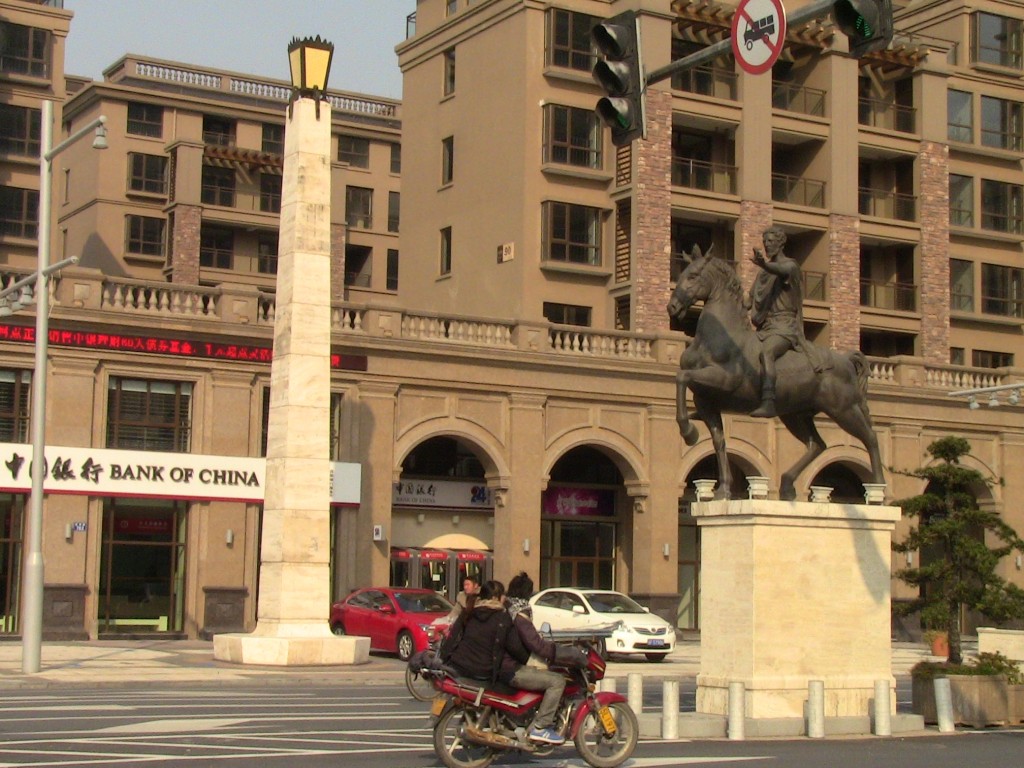 There is a St. Peter's Square, which on Sundays (and everyday) isn't nearly as crowded as the one in Vatican City is. At first I thought there were some Swiss Guards guarding the obelisk at the center of the piazza but then I realized they were the repair crew come to prepare the fountain for the winter months ahead. I should have known better, as they were not wearing blue and orange.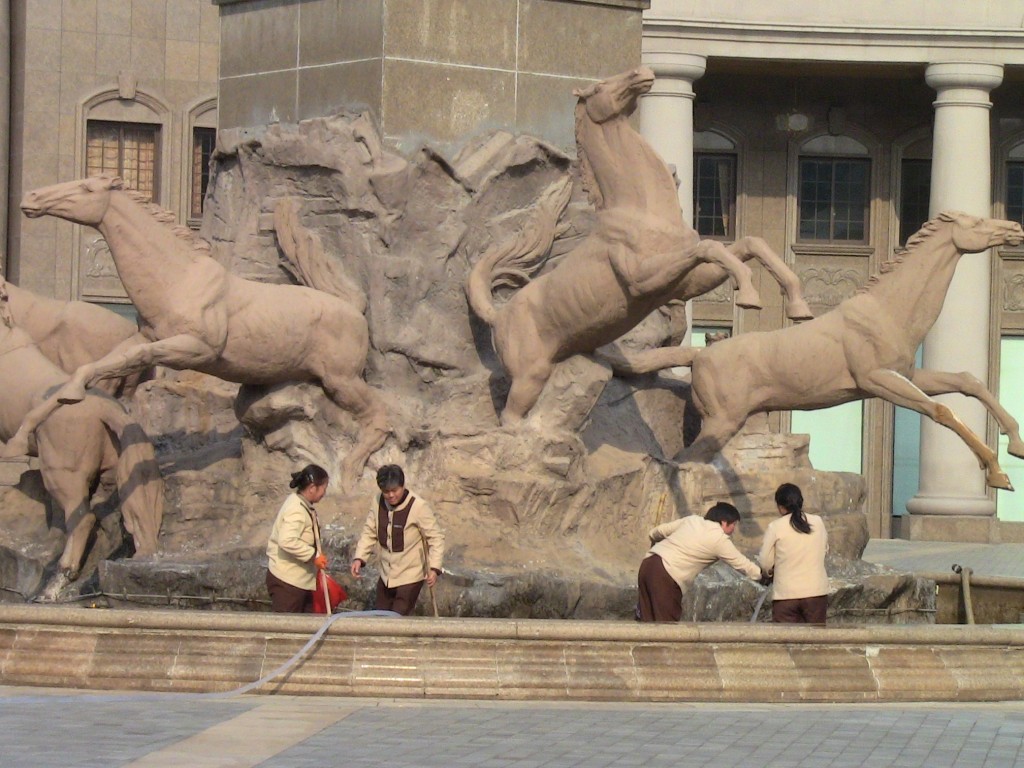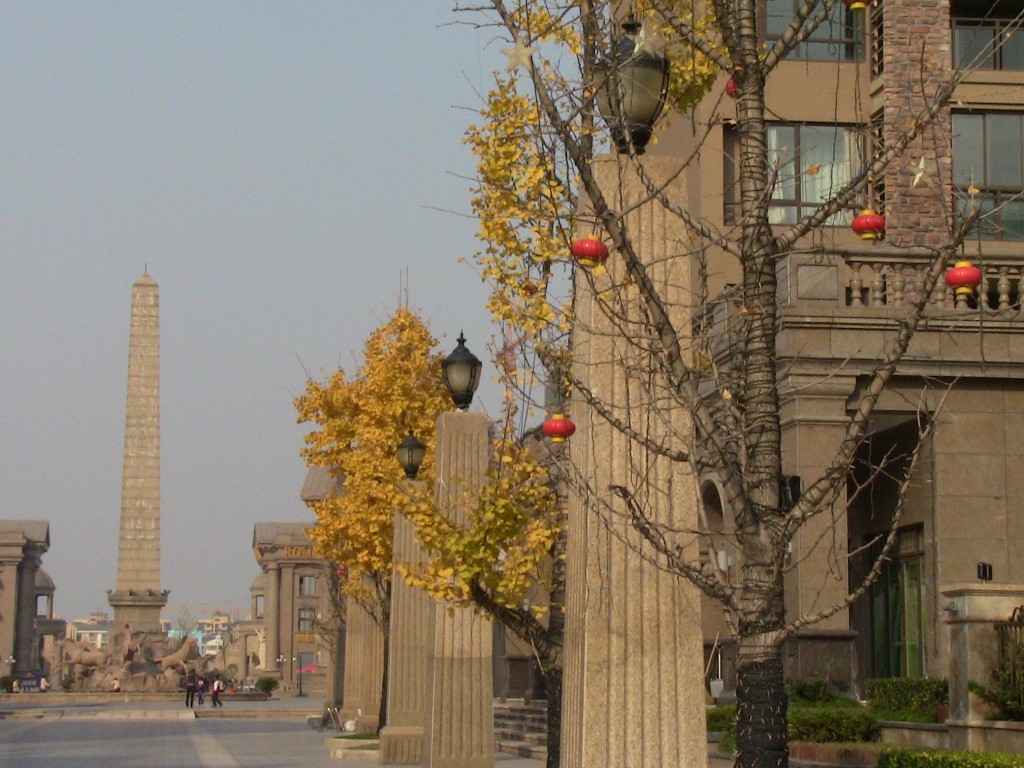 Canals of Jiaxing's Piazza San Marco
This square is very similar to the one in Venice but with a lot less pigeon poo and much cheaper cokes. It isn't as charming as the real thing, but it's also still under construction so I'll wait before jumping to any conclusions. It is interesting to note that both Jiaxing and Venice are canal cities.
Jiaxing and the surrounding area are crisscrossed with canals, which have been used for transportation for centuries (take a look at the map and note the blue veins all around-you may need to zoom in). A 1,700-kilometer canal runs right through the city on its way from Beijing to Hangzhou as well.
The canal is still used today to ship goods and every time I pass over it on my way to and from work I see barges moving up and down its garbage-juiced waters.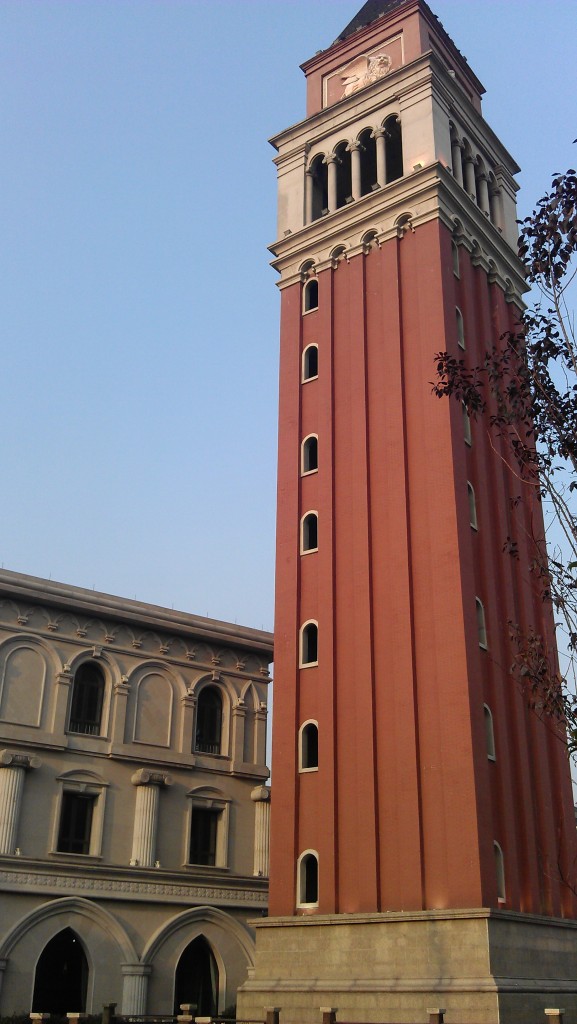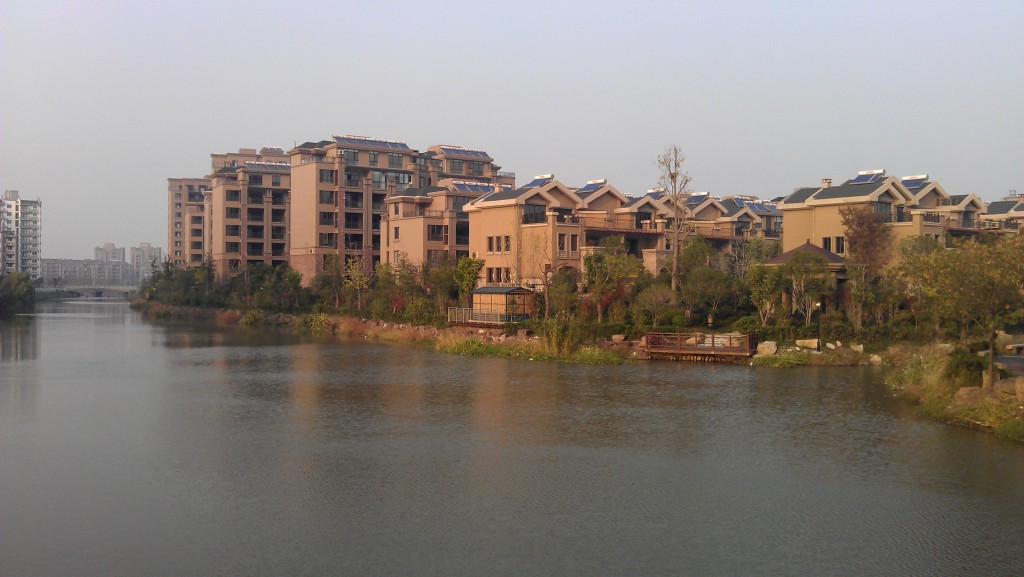 Why there are imitations of several of Europe's most famous pieces of architecture in Jiaxing, I am still not sure. I like to imagine a wealthy Chinese industrialist laughing it up as he sees confused foreigners gawking at his European-style apartment complexes.
A few months ago I was reading a great book filled with fun China stories called Poorly Made In China by Paul Midler. In this book he talks about the praise an artist received from an emperor of China for making a perfect replica of another artist's painting.
Maybe good copies are held in high esteem here. I can reassure you though, that if you're saddened that you didn't see an imitation of your town's own Renaissance architecture, don't worry, there is probably a city out there in China that has your city's or village's covered.