In addition to having a Chinese teacher, Chinese textbook, dictionary and people to practice with at all times, Chinese Pod is the listening resource I have used most over the years. Because of this, it seemed like a good idea to write a Chinese Pod review.
When first starting out learning Chinese I listened to all their Newbie and Elementary lessons with Ken Carroll, Jenny Zhu, and John Pasden as the hosts. Later, Chinese Pod was there again with work-related content when I needed to learn more vocabulary related to working at a company in China.
Whether your goal of learning Chinese is for work, travel or romance, Chinese Pod has all of this covered in their nearly 4,000 lessons.
How Chinese Pod Works
A native Chinese speaker and a foreigner who speaks Chinese host every podcast episode. Each podcast is anywhere from 10 minutes to 25 minutes long and follows the below format:
Introduction
Dialogue
Explanation of vocabulary, grammar and expressions
Dialogue is repeated
While explaining the dialogue, the foreigner tends to ask many of the questions you would ask. For example if the Chinese host mentions the word 姐妹 (jǐe mèi) meaning sister, the foreigner clarifies that this word doesn't necessarily mean sister, and in the given context it means a female friend.
Having the foreign eye when learning Mandarin is very helpful, as some of this might be glossed over if there was only a Chinese teacher.
Episodes are Broken into Levels
There are a total of six levels: Newbie (404 lessons), Elementary (768 lessons), Intermediate (744 lessons), Upper Intermediate (550 lessons), Advanced (407 lessons), and Media (155 lessons).
When you sign up you get 100 lessons free.
Each level uses more and more Chinese. At the Newbie level almost everything is explained in English. The Intermediate level explanations are half in English and half in Chinese. At the highest levels, they use Chinese to explain everything. This is good because in Chinese there really aren't any one to one translations from English anyway.
The dialogues naturally get harder as the level increases.
In addition to these six levels there are other shows you have access to. Qing Wen is a Q&A show answering common Chinese language questions. Dear Amber is a show about expat life in China. Shanghainese is a show for learning Shanghainese, the language spoken in Shanghai with more than 10 million speakers.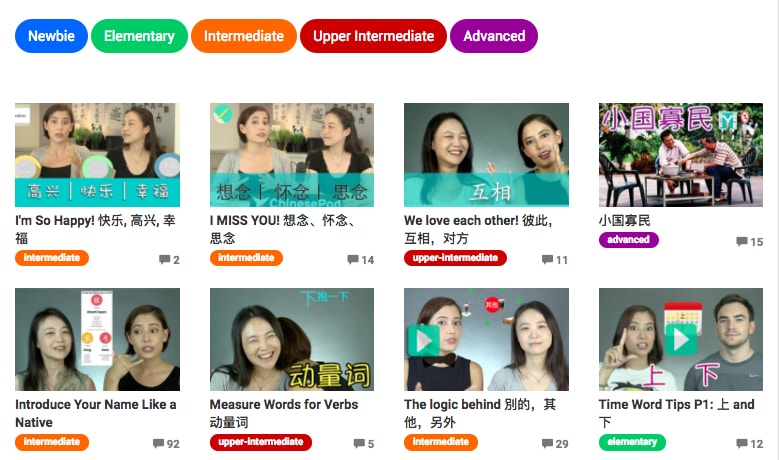 Other Features of Chinese Pod
In addition to getting access to all of the lessons when you sign up with the basic plan, you get a PDF of the dialogue with the characters, pinyin, and English translation. The PDF includes vocabulary and key grammar from the dialogue as well.
Both the audio episodes and the PDFs are downloadable.
Each lesson has a comments section where Chinese Pod listeners leave comments about the episode, ask questions, and help each other.
There are also forums where you can have language discussions as well as discussions about life in China or Taiwan.
If you don't know which level you are at, you can take a test to find out.
In addition to the 100 free lessons you get when you sign up, there are also free episodes on the Chinese Pod YouTube channel.
Pros of Using Chinese Pod
The author of this Chinese Pod review believes the best part about Chinese Pod is the audio format. You can download the episodes to your phone, computer, or iPod and listen anywhere you are. I personally download the episodes to my computer, add them to iTunes, and then sync them with my iPod.
In addition to being a great listening resource, Chinese Pod is also an excellent way to learn about Chinese culture. Each episode is about a particular topic, such as buying plane tickets, drinking culture, or the "left over women" phenomena.
Dialogues typically relevant to daily life, especially at the Newbie and Elementary levels. At the higher levels the topics become more niche, but you definitely don't need to listen to every episode.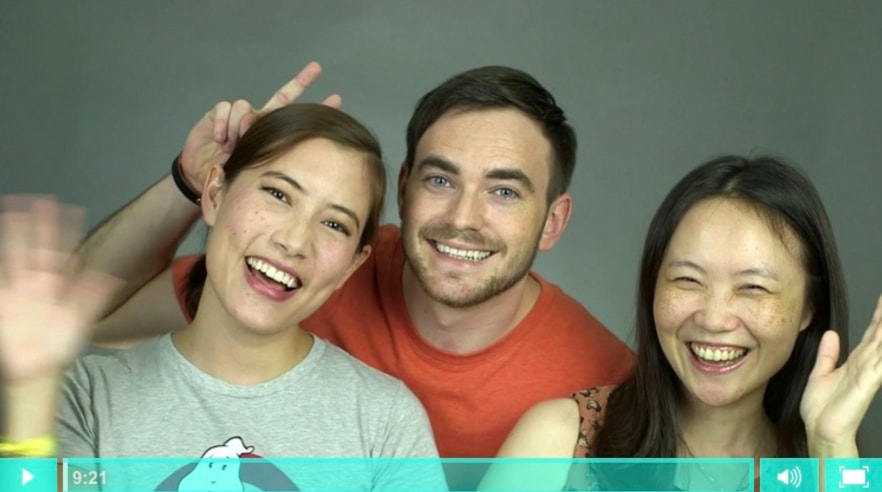 The lessons themselves are very high quality. Instead of just being a recorded dialogue, the dialogues are often acted out with actors and sound effects.
Episodes are often made into series. One series is about a couple: Lili and Zhang Liang. There are 20 episodes in this series I believe. The series follows the lovers through their honeymoon stage, love triangles, break ups, and more.
Another series is about a Chinese boss, Lao Wang, and a foreigner Peter (played by John Pasden). The series includes titles such as Attending a Trade Show and Touring a Factory. Peter is doing business in China, looking for hammers to export. Some words you here in these dialogues include 设备 (shè bèi) – facilities, 聘用 (pìn yòng), and 供应商 (gōng yìng shāng) – supplier.
The Importance of Listening
For a long time I plateaued with my Chinese. I was studying a lot (mostly reading) but I wasn't getting much better. In my interactions with Chinese people while doing medical interpretation, I frequently didn't understand things they mentioned during small talk made before each appointment.
I finally realised the reason for this. I was comfortable speaking Chinese using the words and expressions I knew. Therefore I didn't use most of the of the new vocabulary I learned. Hence none of it stuck and I quickly forgot it.
The way I overcame this was through listening to Chinese Pod at the levels appropriate to me (mostly Upper Intermediate and Advanced).
Although I still don't a lot of the vocabulary I hear in Chinese Pod episodes in my everyday conversations, it sticks because I do so much listening at the appropriate level.
Of course doing all this listening at a level far above me, like CCTV news, would not help that much since it's too far beyond me. This is another reason why the level system that Chinese Pod uses is good.
Cons of Using Chinese Pod
The main con of Chinese Pod is that after listening to an episode, you may not encounter the same words again for a while and so you may forget them. A way to combat this is to make flashcards of new words using Anki and review them daily.
New episodes come out everyday. However each only once episode at your level comes out each week. But since so many lessons at each level have already been recorded, this is not really a problem.
Chinese Pod Pricing
Free Plan – When you create an account with Chinese Pod you get 100 lessons free. You can also use the forum.
Basic Plan – The basic plan costs $14/month or $124/year ($10.33/month). It gives you access to the entire library of episodes as well as the dialogue and vocabulary PDFs for each episode. You are also able to comment on episodes.
Premium Plan – The premium plan costs $29/month or $249/year ($20.75/month). In addition to what the basic plan gives you, gives you access to some other content such as their app, custom vocabulary lists and other dialogue reviews and breakdowns.
Premium+ Plan – The premium plan costs $99-299/month. It is the same as the premium plan and additionally gives you 1 on 1 Chinese classes with a tutor online. This works out to be about $16.25 per 20-minute class depending on how many classes you have with the tutor each month.
This is quite expensive because you can find a 60-minute class with a good 1 on 1 tutor in China or on online platforms like iTalki or Verbling for the same price or even less.
For complete pricing, see their pricing page.
Chinese Pod Review Conclusion
No matter whether you've been studying Chinese for a while or whether you are just starting, definitely give Chinese Pod a try. You can sign up for one month and if you don't like it you can get your money back with their 30-day guarantee.
You could also sign up for a month and download as many episodes as you want and then cancel the subscription.
Thanks for reading my Chinese Pod review. If you have any questions about Chinese Pod leave them in the comments and I'll do my best to answer them.